NeuRA Imaging houses two 3 Tesla agnetic resonance imaging (MRI) scanners – a Philips Indegnia CX and a Philips Achieva TX.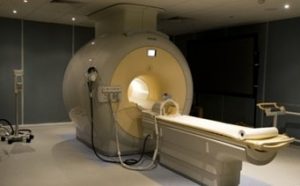 These scanners allow researchers to measure brain structure and function, as well as connectivities and chemistry in a non-invasive manner.
In April 2007, the original Philips scanner was replaced with the latest model, the "Achieva", having larger field gradients and a second radiofrequency channel. This enabled researchers to undertake a more extensive range of exciting new experiments, including 31P (brain bioenergetics) and 13C (brain metabolism) experiments, and to obtain higher angular resolution in their images.
During 2007, research using the scanner was expanded. A grant from the NSW Cancer Council allowed the Imaging Centre to purchase additional equipment to image smaller items. In addition, the facility joined the Australian National Imaging Facility, becoming part of a nationwide network that includes imaging facilities in Adelaide, Melbourne, Sydney and Brisbane. From this National Collaborative Research Infrastructure Strategy (NCRIS) scheme, NeuRA Imaging was able to employ a Facilitation Fellow, Dr Michael Green, from 2008 to assist researchers who wish to access the facility under the National Imaging Facility.
Following a successful ARC Linkage Infrastructure and Equipment Fund (LIEF) application, the system was upgraded to Achieva TX in 2010. This system has multi-transmit technology as well as 32 receiver channels. A next generation 32 channel head coil was also purchased as part of this ARC grant. More than 90 projects are currently approved to use the facility.
In April 2019, a new Philips MRI scanner will become available for research. The Philips Ingenia CX 3T scanner will arrive in mid-April with research bookings expected to become available in late-May.