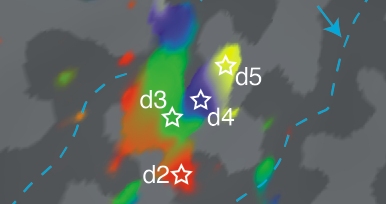 Mapping of cortical somatotopies in chronic Complex Regional Pain Syndrome
Recently published in The Journal of Neuroscience is a paper from the PhD thesis of Audrey Wang used the Achieva TX scanner to finely map the somatotopic representation of the fingers in controls and participants with complex regional pain syndrome.
It has long been thought that disorders such as CPRS are associated with and even maintained by a reorganization of the representation of the affected limb in the brain's somatosensory cortex. (This is the part of the brain that receives all the sensory input from the body).

This assumption is based on indirect or incomplete evidence including imaging with low resolution.
Here, we mapped the input, from the fingertips in both hands of controls and participants with CRPS affecting one hand only, using high resolution, phase-encoded functional imaging and found that, contrary to dogma, the cortical representation of the affected hand is largely similar to the unaffected hand and similar to that of control subject.
If any map reorganization does occur it is unlikely to be related to pain severity or disease duration. These findings compel us to reconsider the cortical mechanisms underlying CRPS and the rationale for interventions that aim to "restore" somatotopic representations to treat pain.